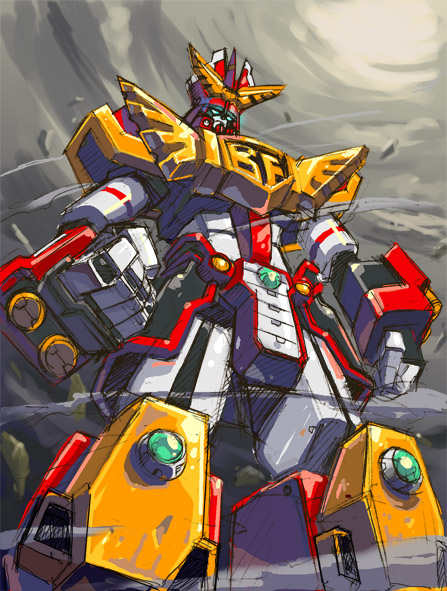 Compatible Kaiser
Unit type:
transformable combining super-heavy knight machine
Accommodation:
standard capacity ~14 (4 pilots, 10 passengers)
Dimensions:
overall height 55.4 meters
Weight:
128.4 metric tons
Armor materials:
hyper-tensile reinforced lunar titanium
Powerplant:
orgone extractor, power limit unknown
Propulsion:
orgone cloud thrusters, output unknown
Performance:
maximum thruster acceleration unknown
Equipment and Design Features:
Larseilam: One of the foremost abilities of the Moon Knight machines is the ability to briefly stop time, letting them subdue hostiles and resolve situations without bloodshed. It's a potent capability with a high potential for abuse, and thus is only entrusted to the care of ranking knights.
Orgone Cloud: A green energy cloud formed around the machine, used for both blocking attacks and executing spatial hops.
Compatible Combination System: Compatible Kaiser is a robot composed of four machines, each specialized for a different mission role.

Ignis Kaiser: A nimble fighter jet used for rapid defense and extraction. It can seat one additional passenger behind the pilot. Forms the head.
Aura Kaiser: A heavier support/bomber aircraft with EWAC capabilities. Seats a crew of four, plus modest cargo room. Forms the chest and arms.
Terra Kaiser: A well-armed battle tank, armed with missiles and cannon. Seats a crew of four. Forms the pelvis and thighs.
Aqua Kaiser: A sleek combat submersible for underwater operations. Seats a crew of four. Forms the lower legs.
Armaments:
2 x Kaiser Vulcan, mounted in head
2 x Kaiser Missile launcher, mounted in shoulders
2 x Kaiser Shade energy shield, mounted in forearms
Kaiser Burst beam attack, mounted in chest
Technical and Historical Notes:
As the Lunar Kingdom of Everglory began exploring the possibilities of Orgone extraction technology, war loomed ever on the horizon. On the one side, the Directory longed to bring the ever more independently-minded colonists to heel. On the other, eldritch creatures lurked in the dark of the moon. The kingdom would need staunch defenders were it to ensure its survival, and it was to that end that a chivalry of knights was formed. Human knights of flesh and blood, and giant knights of steel and orgone.
Chief amongst these towering defenders was the Compatible Kaiser, a robust and highly adaptable lord of knights. The Kaiser served not only as a trump card against impending conflicts, but also a knight errant within the Kingdom's bounds. Split into four specialized machines, its pilot could cover any sort of terrain, rescuing civilians while fending off the foes that imperiled them. Once combined, it became a bare-knuckle powerhouse, remarkably agile for its size and quite capable of pummeling whole armies with its beams and massive fists. In the most dire situations, it could stop time itself, or blink from one end of the field to another, catching a particularly troublesome foe flat-footed.
Last edited: