Name: Ashley Chase
Age: 23
Gender: F
Height:5'2
Weight: 55kg
Eye Colour: Red
Hair Colour: White
Ethnicity: White British
Appearance:
Image linked due to size issues.
Other Information:
Ashley is entirely human, but abuses combat stimulants in combat. Reflex and reaction time boosters. Side effects make her highly irritable and incredibly twitchy for a couple of hours after combat. (Will elaborate more on what they do soon, just establishing this as a thing for now).
She's fairly insular, forcing herself into a routine and reacting badly to any attempt to push her out of it or change her schedule without warning - 24hrs notice at minimum, but she'll make an exception for combat and take her anger out at whoever dared to interrupt her life with incoming fire.
Biography:
Ashley was born and raised in the UK, brought up on stories of the old Terra Sentinel and mech combat. She did her best to follow in their footsteps, but flunked out of the Directorate military post-training due to discipline issues. A year or so after that was spent drifting between security roles and PMCs, and she came to be working for a small unit in munich during new year's day on OE-100.
Ignoring her orders to fall back and protect company property, she tossed her Randgrith right into the fray against the DAMONs to try and protect as many civilians as she could. While her machine was in ruins by the end (alongside any hope of remaining with her former employers), she'd attracted the attention of a certain Institute. She was offered a job as a "Testing assistant", and retained on hand to assist in controlled DAMON summonings while beating down any that tried to escape or lasted longer than planned. The Riot-B was eventually given to her as part of this role, its blades specifically designed to tear through the D-Fault barriers stronger DAMONs were beginning to use.
Her current assignment is guarding a new DEI carrier, but that is subject to change depending on circumstances.
Mobile Weapon: Riot B.
Affiliation: DEI
Combat Style: Hyperaggressive. She'll hit first, hit hard, and won't stop hitting until her target is paste. While she'll use her fists outside of the mech, in mechanised combat the twin blades on the riot B see an awful lot of work.
Strengths: She's fast - her reflexes and reaction time are far above human average, and with how up-close she fights the first time an opening is made she'll stick a blade in it. She's wrecked enough machines to know which parts they can live without and which hold it all together, allowing her to take out a mass-production mech far more easily than most would expect.
Weaknesses: She can't handle ranged combat. Her machine isn't specced for long-range, but even if she's given a sniping mech she'll charge into close range and unload it point blank. The drugs she uses in combat only lost so long as well (Actual duration unknown, varies depending on dosage and conditions).
---
Riot B (PE-002)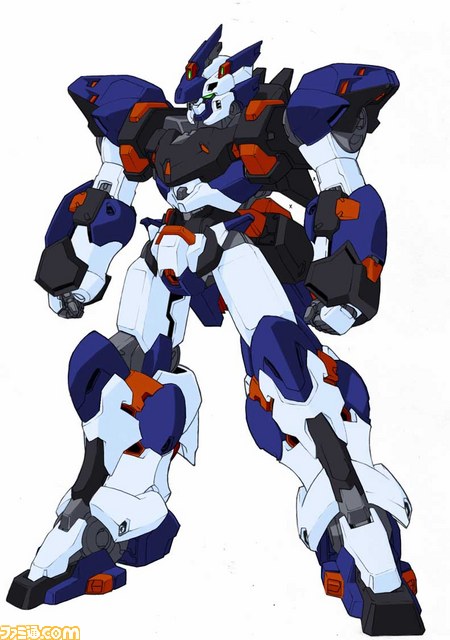 The Riot B is one of DEI's innovations in anti-DAMON mobile weapons. It's power source is a highly unstable proton engine that functions by [Redacted for security reasons]. The twin beam sabers are optimised for breaching D-Fault barriers,
Armaments are listed
here.
Video of the Riot-B in action.
Last edited: